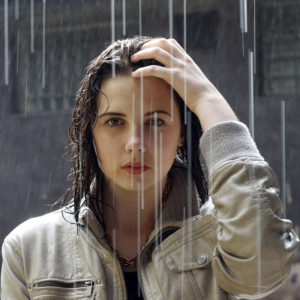 The LoLa Art Crawl continues through rain or shine. Our artists and sponsor sites have been working for weeks to set up their exhibition spaces, so no worries. While some artists and sites do extend showing their work out onto patios, yards, and sidewalks, all sites have indoor spaces where you can view the work and meet the makers in comfort.
What better way to beat a little drizzly weather? You could start the day with some breakfast or coffee and see some art at Fireroast Café or Riverview Cafe, where you can also pick up your LoLa Art Crawl Directory.  As you look through the guide, you can also preview Artists work online and get directions to their site on your phone, or select one of the Categories of art media to guide your crawling.
You can view art and get lunch at one of our Sponsor Sites that are exhibiting artists at Gandhi Mahal or at The Howe Daily Kitchen & Bar or grab a bite at any of the Dining choices in Longfellow. And, you can shop at other sites and Sponsors for vintage goods, gifts and more.
After you've spent the day viewing and buying art and meeting LoLa artists, enjoy dinner at Merlin's Rest or grab some food and drink to go at Oxendale's Market and Elevated Beer Wine & Spirits. Plus, there's great evening musical entertainment at The Hook and Ladder Theater & Lounge.
Make your day a Great Day by enjoying everything the LoLa Art Crawl has to offer Rain or Shine!