LoLa Co-Founder and Artist
by Sally Lieberman 7/5/2018
–this is the second in a series of essays about LoLa's history in its first decade.
Laughing Waters Studio, where LoLa co-founder Bob Schmitt lives and works, is a small cottage on Minnehaha Parkway just west of Hiawatha. I go there to interview Bob, and as I approach the house I recall coming to a LoLa artists' meeting here in the summer of 2010. On that occasion the entire living space was wall-to-wall people; artists were sitting on every inch of floor, perched on the arms of chairs, and standing two or three deep in the corners. The LoLa Art Crawl had mushroomed since its first year, apparently catching the organizers a bit off guard.
This time, entering through Bob's front door, I am surprised by light and air and space. We walk through the immaculate living room where Bob and Anita White had their first conversation about starting an art crawl. Reaching the back of the house, we sit down in the studio/classroom that was added during a major renovation a few years ago. Here, Bob teaches Chinese painting and calligraphy. Four classes are in session this week, so the painting table is set for about 10 students, with paper, brushes, and ink at each place. A master of the Chinese brush, Bob paints in (and teaches) a variety of styles. He does intricately detailed paintings of iconic Minnesota landscapes: Minnehaha Falls, Lake Superior's North Shore. He does abstract paintings with bold, sweeping brushstrokes and paint splashes. His Zen Buddhist enso paintings consist of a single brushstroke. Brush-written Chinese characters, sometimes his own poetry, are sometimes included.
I am still marveling at the illusion of so much space in a small house when Bob says of the LoLa Art Crawl, "From the beginning, we always looked like we were much more than we were."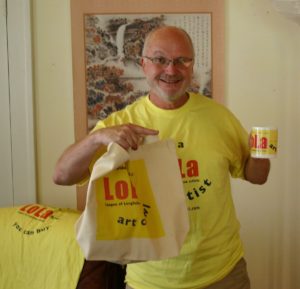 Although Bob modestly describes his role in LoLa from 2009 to 2013 as "administrator," he is also the organization's undisputed marketing genius. During six busy weeks between the first LoLa meeting in Anita's back yard and the Crawl in August 2009, Bob summoned his expertise as a marketing and graphic design professional to "create a presence" for LoLa. The LoLa Art Crawl logo he created, with its circle-dancing letters and garish hot-pink-and-yellow color scheme, is perhaps the most recognizable brand on the Twin Cities community arts scene. Bob remembers coming to the realization that, in designing for LoLa, "I'm suddenly my own client more or less, and I can do it the way I want to do it." Over the years he tweaked his design a bit (otherwise, he says, "you just get bored"). "The graphic designer in me was having fun building the brand of it and coming up with tag lines like 'Look Out, Here Comes LoLa!' and 'Biggest Little Neighborhood Art Crawl in Minnesota.'" Graphic designer and LoLa artist Megan Moore, who produced LoLa's publications from 2015-2017, added her own touches to the brand while maintaining the integrity of Bob's work. For that, Bob is grateful. "Part of my personal joy is that the heart of all that continues to live on." Like co-founder Anita White, Bob takes pride in the I Am a LoLa Artist posters that are permanently installed on utility boxes along East Lake Street. The Longfellow Community Council (LCC) reached out to Bob on very short notice in 2013 with a Minneapolis Great Streets Project grant to fund this installation. The posters, whose design and content represent a collaboration between Bob and Anita, keep the LoLa Art Crawl in the public eye year round.
Bob gives much credit to LCC. The organization "was right there shoulder to shoulder with us providing the support they could provide…. I always felt we were well supported by the greater neighborhood and their organization." LCC served as LoLa's fiscal agent from 2010 until this year, when LoLa finally became a registered non-profit. It has supported LoLa's work through grants, helped publicize the Crawl, and exhibited work by LoLa artists at its offices.
As the administrator during LoLa's first five years, Bob managed many processes and kept track of countless details. He chaired most LoLa meetings, conducting the group's business, as he recalls, on a consensus-based model. Meetings, as I myself remember from this period, were lively, often long, and occasionally contentious. The consensus model meant that, in Bob's words, "you end up kind of swerving down the middle a bit, so there were a number of unresolved issues that continue to live, things like: Is LoLa an art crawl or is it something larger? Is it more than one event?" There were arguments about the Crawl's geographic reach (it originally extended all the way west to Cedar Avenue and was pared down to its current area in 2014). There were discussions about whether to limit the number of sites and concentrate artists in a few locations (LoLa continues to give artists the options of exhibiting at their homes or at business sites, alone or with other artists). As the number of participating artists grew exponentially, LoLa members wondered "how big is too big?" and debated whether to keep the event open or institute a selection process of some kind (LoLa remains to this day unjuried). There were frequent discussions about whether to relax the requirement that participating artists must live or work in Greater Longfellow. In 2018, for the first time, artists from outside the neighborhood may participate as guest artists if invited by a LoLa member or neighborhood resident. Looking to the future, Bob sees LoLa facing the challenge of revisiting these issues as the organization grows. Another challenge he foresees for the current leadership: "when you appear to be well-organized, people don't come forward to help. If you look disorganized or chaotic, people come forward."
I ask Bob whether he thinks the Longfellow neighborhood has become more interested in art because of the LoLa Art Crawl. He replies that "the neighborhood has become more self-aware" and the awareness has grown outside the neighborhood as well. Before the crawl started, "no one thought of Longfellow as being this hotbed of creativity." Now, "there's Northeast, there's Lowertown, and there's LoLa." Within Longfellow, the crawl provided a focal point for new artists to come forward and learn how to present their work to the public, making LoLa something of an "artist education project." The community of artists that emerged around the LoLa Art Crawl has, in Bob's eyes, matured as exhibitors, even as new artists join every year.
Between 2009 and 2013, the LoLa Art Crawl grew from 40 participants at 20 sites to 155 artists at 89 sites. Bob steadfastly fulfilled the same set of responsibilities through these years despite the growing workload. After the fifth crawl in 2013, Bob acknowledges that he was "just toast" and needed to hand off LoLa's administration to other volunteers. It was a big job to hand off. According to Sharon Parker, one of the LoLa members who stepped in to run the 2014 Crawl, she and Bob briefly considered applying for grants to hire a project manager. By Sharon's calculations, it would have required $20,000 per year to cover all the work that Bob had been doing on a voluntary basis.
Bob continues to participate in the LoLa Art Crawl as an artist and his Laughing Waters Studio as a sponsor. The years since he handed over LoLa's administration to others have brought much good into his life: his partner of four years, Greg; his granddaughter, Audrey; the home renovation; and his booming business as an art teacher. He will exhibit during the 2018 Crawl, as always, at Laughing Waters Studio.  He is currently working on a massive 5 panel mural of Minnehaha Falls in winter that he hopes to finish by LoLa 2018.
Sally Lieberman is a maker who sews and embroiders. She has been a participating LoLa artist since 2010. As she conducts interviews for this essay series, she feels a deep gratitude to LoLa for bringing many remarkable people into her life. As a member of the steering committee for the 2018 Crawl, Sally is also recruiting volunteers to publicize the LoLa Art Crawl at neighborhood events.  She can be reached at sallylieberman@gmail.com.