LoLa Co-Founder and 2018 Featured Artist
by Sally Lieberman 6/21/2018
–this is the first in a series of essays about LoLa's history in its first decade.
Anita White and fellow artist Bob Schmitt both trace the LoLa Art Crawl's origins to a particular moment. In May 2009 Anita came to a Mother's Day art sale at Bob's home studio on Minnehaha Parkway. They chatted a bit, and just as Anita was leaving she turned around and asked: "Have you ever thought of doing a neighborhood art crawl?" Bob remembers replying, "Yes, but I'll never do it." Anita remembers: "Cool, great idea!" In any case, Bob suggested that Anita place a call for artists in the Longfellow Messenger. Thus began the partnership that constituted the core of the League of Longfellow Artists during the first five of its ten years.
I interviewed Anita recently about her artwork and her experiences with LoLa. As we sat down at a table outside Fireroast Cafe, I was all business, my list of questions in front of me, my cell phone ready to audio-record. Anita, on the other hand, took time to settle into her chair and situate a couple of large bags full of sketch books, rolled-up paintings, art supplies, and who-knows-what. Then she said a blessing, first in Hebrew and then in English.  Soon after we began talking, she pulled out a sketchbook and began to draw.
Anita draws all the time, wherever she is, whoever she's with, however she's feeling: pen and ink sketches into which she often incorporates words and watercolor. When Anita is in line at the bank, she draws the bank teller.  When she attends a LoLa meeting, she draws the meeting. When she sits in her back yard, she draws her flowers and her vine hut. Anita cared for her parents, Emily and Jim, at the end of their lives, and she drew them continuously, documenting their doctor's appointments and hospitalizations, their quiet moments, the wise and funny things they said. It was during this period of her life that she began to tell herself: "Nothing is so scary that I can't draw it!"
If drawing can be an act of courage, it is also, for Anita, an act of empathy and respect, and a way of connecting. Her sometimes-random subjects are curious, amused and, often, honored that they're being drawn. During the long year that her street, Minnehaha Avenue, was under construction, Anita drew the construction. She got to know some of the workers, wrote their names into her sketches, and gave them copies. The construction workers told her stories of being sworn at and having things thrown at them by irate motorists. Anita saw her drawing project as a means to "honor the often-invisible people who work so hard to build the roads we draw on."
Her current work at Hennepin Health (formerly Hennepin County Medical Center) is in a similar vein. Anita began drawing workers and caregivers there while her husband, Josh, was treated during a series of medical crises. "I drew Josh, I drew the people, I drew the blood, and then I drew the divine hands. It's hard to talk about the divine without sounding syrupy, but I feel a call and response of the divine through drawing. Drawing in tough times, I'm comforted and held and I'm never really left alone." Anita's work elicited a powerful response from many people at the hospital, and she was invited to hold an exhibition there last fall. Her ongoing documentation-by-drawing project, "A Day in the Life of Hennepin Healthcare," is sponsored by Fallon Foundation through a gift to the Fallon Humanism Fund at Hennepin Healthcare Foundation.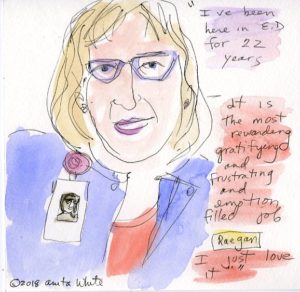 "Connection" comes up a lot when Anita talks about her role in LoLa. From the very first LoLa meeting, held in her back yard in late June 2009, to the post-Crawl artist gatherings she hosted for several years, to her encouragement of numerous new artists who weren't sure they were ready to exhibit in the Art Crawl, Anita has been a tireless community builder. She loves the variety of artistic activity in the neighborhood and in LoLa, and the fact that "some people might do very sophisticated work and somebody else does something with popsicle sticks." One of her favorite projects as a LoLa organizer, on which she worked closely with Bob, was the "I am a LoLa Artist" poster series, produced in August 2011 with the support of an East Lake Great Streets Project grant through the Longfellow Community Council. Canvassing the neighborhood on her bike, Anita photographed nearly every LoLa artist and collected a bit of each person's story. "Sometimes people thought they had nothing to say about their art, but they always did, I mean, they always had something amazing to say." Two years later, with additional support from the Minneapolis Great Streets Project, some of the posters became public art pieces that can still be seen on utility boxes throughout the neighborhood. Another of Anita's favorite roles in the organization: opening LoLa meetings with lighthearted humor by performing a small puppet show about the trials and tribulations of organizing an art crawl. "I enjoyed doing something really random and expressive that normally you wouldn't have at a meeting," she told me. One of Anita's current projects is to create a zine about LoLa.
I asked Anita whether her LoLa experience has affected her art."[LoLa] didn't change how I draw," she replied, "but it affected the artistry of being with people. The creative aspect, the alchemy of connecting people, encouraging people, that feminine parental nurturing." LoLa "opened up [her] eyes to community and the beauty and depth of how a lot of artists who are introverted can come together, be seen, and find a voice." On the practical side, she has learned a great deal from seeing how other artists present, and price, their work.
Anita takes pride in LoLa's contribution to the Longfellow neighborhood. "People smile when they think of LoLa," she says; "[It] brings people joy." She believes that the connections and relationships forged through LoLa have helped to bring into being the vintage and re-use Minnehaha Mile, as well as the Downtown Longfellow brand adopted by the group of businesses around Lake and Minnehaha.
For Anita. holding a neighborhood art crawl is "a hugely defiant political act. It flies in the face of the alternative universe of alternative facts and greed, alternative values and greed; values that don't create community, that divide community. [The art crawl] is so inclusive, when we have these times of immigrants being deported, threats of—and we haven't even talked about gun violence!… When you create community it's a huge thing. I think LoLa helps repair the soul of the community." Anita believes that the "sparks of light" created by artists generate positive energy in the neighborhood and in the world.
Although Anita has been less involved as an organizer since 2014, when a new group of artists stepped in to manage the art crawl, she stays connected and has enjoyed watching LoLa's growth and the gradual emergence of new leadership. For many LoLa artists, including the current Crawl organizers, she is a revered figure. In Anita's view LoLa's challenge, as it continues to grow, will be to maintain its integrity as an inclusive, non-corporate, neighborly art crawl. She sees the Powderhorn Park MayDay Parade and Festival, presented annually by In the Heart of the Beast Puppet and Mask Theater, as an example of a tradition that has maintained its integrity over many decades.
During this year's Crawl, her tenth as a LoLa artist, you will find Anita and her brother Wallace, who is also an artist, at Amaranth Studio, Anita's home studio near Minnehaha Park. She will be exhibiting and selling drawings, floral watercolors, large travel paintings from Mexico and Romania, silk paintings, prints, and cards. Throughout the summer, you will also see examples of her work featured in the publicity for the Tenth Annual LoLa Art Crawl.
Sally Lieberman is a maker who sews and embroiders. She has been a participating LoLa artist since 2010. While conducting interviews for this essay series, she feels a deep gratitude to LoLa for bringing many remarkable people into her life. As a member of the steering committee for the 2018 Crawl, Sally is also recruiting volunteers to publicize the LoLa Art Crawl at neighborhood events.