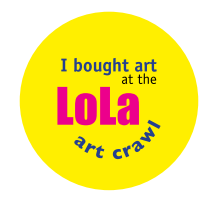 I Bought Art!
If you buy a piece of art this weekend, ask for an "I Bought Art" sticker. Then visit our sponsors and present your sticker for these great deals! Discounts valid through September 30, unless otherwise noted.
Fireroast Cafe:
Free coffee with purchase
Flourish Pilates+Yoga+Bodywork:
$10 off a mat pass (10 pilates of yoga classes).
Forage Modern Workshop:
20% off entire store during the Art Crawl.
Junket Tossed and Found:
10% off purchases storewide.
$5 off your bill of $25 or more (September 17th and 18th only).
Minneapolis Community Acupuncture:
1 coupon for a free treatment.
Moon Palace Books:
Buy 2 greeting cards, get 1 free
Mother Earth Gardens:
$5 off a $25 purchase
Natural Built Home:
$10 off all purchases
Peace coffee:
$1 off a purchase
Riverview Cafe:
10% off all purchases
Tony Schwartz Bodywork:
$20 off first service
Urban Forage Winery and Cider House:
$2 off a bottle of wine.