What is LoLa?
The League of Longfellow Artists (LoLA) began in the summer of 2009 as a small grassroots effort to raise the visibility of artists living or working in the Greater Longfellow Neighborhood of South Minneapolis. Artists Bob Schmitt, Anita White, and Shirley Neilson got together in the Longfellow community and said, "Let's put on an art crawl! LoLa has grown each year since since 2009, when the crawl featured 42 artists at 20 sites. LoLa now flourishes as an annual art crawl that features more than a hundred neighborhood artists working in many different media. Join us for the "biggest little art crawl in Minnesota," which will be held on this year on September 17th and 18th.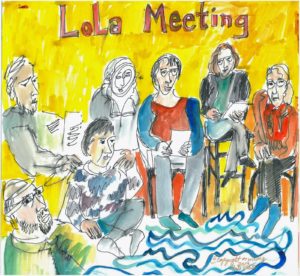 ---
Connect • Create • Grow
---
Our Vision
LoLa is a volunteer-driven community organization that showcases, nurtures and supports Longfellow arts and artists. We strive to represent the diversity of the Longfellow neighborhood through the arts.
Our Mission
LoLa partners with neighborhood arts organizations, nonprofits, small businesses, and residents to design and host a variety of events and activities that:
support Longfellow artists at any stage in their creative lives, and
invite and encourage community participation in the arts.
What does LoLa do?
Our events and activities, scheduled throughout the year, include:
educational workshops,
hands-on art activities for people of all ages, and
the annual LoLA Art Crawl and other opportunities for artists to showcase and sell their work.
Who is LoLa?
Chair: Dave Holliday
Treasurer:  Lisa Anderson
Artist and Community Outreach Committee
Sally Lieberman
Dave Holliday
Shirley Neilson
Business Relations Committee
Stephen Clark
Lisa Anderson
Marketing & Communications Committee
Chris Miller
Megan Moore
David Skarjune
Hannah Lieberman
Julie Meyer
Special Thanks To
Dan Goddard

Steve Anderson
Steven Gagner
How can I join LoLa?
The deadline for joining the 2016 LoLa Art Crawl has passed.  For information about upcoming opportunities and to receive information about the 2017 LoLa Art Crawl, please Contact Us.